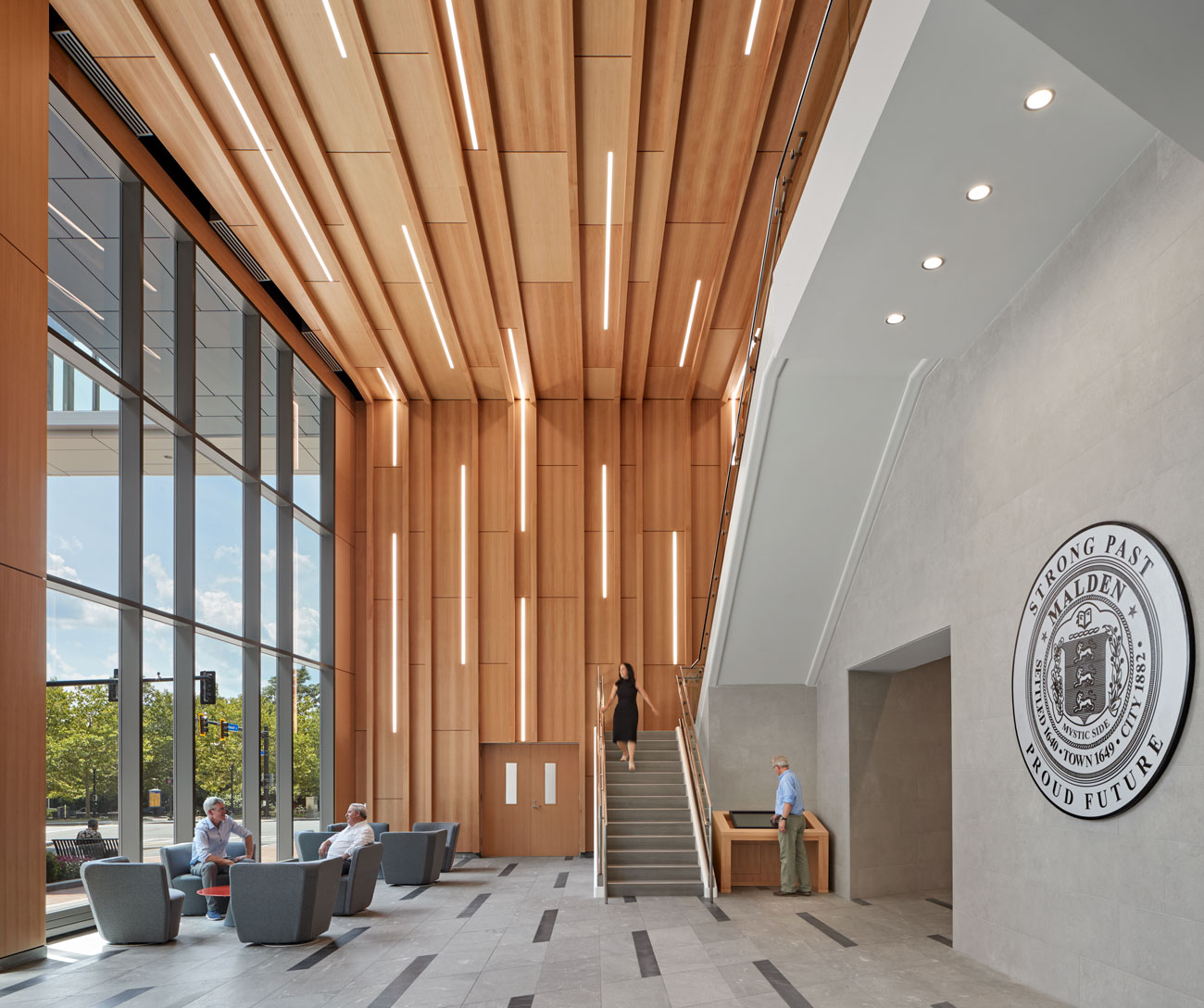 Leverage design flexibility across ceilings and walls with continuous runs and custom patterns.
Simplify sourcing and timelines with one source of supply. All components arrive at the job site together.
Support well-being and enjoyment of the space with WELL BUILDING compatible options.
---

WELL BUILDING STANDARD COMPATIBLE
L04 Electric Light Glare Control
L08 Electric Light Quality
S04 Reverberation Time
S05 Sound Reducing Surfaces
X05 Enhanced Material Restrictions
X06 Volatile Organic Compound Restrictions


---

CONSTRUCTION
Pre-painted black steel utilizing screw fasteners for gear tray connection.
---

MOUNTING & INSTALLATION
Proprietary design and hardware ensure consistent reveal width perfect fit and alignment with SoundPly acoustic panels.
---

OPTICAL
Evenly diffuse flat acrylic lens. End-to-end illumination for even row lighting.
---

ELECTRICAL
LED Light Engine designed for reliability and long-life operation. Standard 0-10V dimming to 1%. 120-277V standard.
---

CONTROLS
Individual or grouping control solutions available. Consult factory for specific requirements.
---

LISTINGS
ETL safety certified for damp locations. Standard 5 year warranty / 10 year warranty
available upon request.
---

FIRE RATING
Class A, ASTM E84
---

ENVIRONMENTAL
For use up to 25 °C ambient
25%-55% relative humidity
Dry locations only
---

LEED
1. MR Recycled Content
2. MR Material Ingredients
3. EA Optimized Energy Performance
4. EQ Enhanced Acoustical Performance
5. EQ Interior Lighting
6. EQ Daylight
7. EQ Low Emitting Materials (RF core)
---

MAINTENANCE
See our Receiving, Handling & Maintenance document for details.

---

WARRANTY
Low maintenance cost with 5-year / 50,000 hour warranty. 10-year upon request.
---
Length
• 48″


Width
• 4″
• Custom (Consult Factory)

Emergency Power
• None
• 6W Standard

Row Option
• Standalone
• Middle of Row
• End/Start of Row
• Pattern* (Consult Factory)

* See next section for examples of pattern options.
Light Engine (LM/FT)
• 300
• 400
• 500
• 650
• 800

Dimming
• Step Dimming (Bi/Tri Level)
• 120V Line Voltage Dimmer
• Prewired for 0-10V Dimming
• Wireless Dimming

Color Temperature
• 3000K, 80 and 90 CRI
• 3500K, 80 and 90 CRI
• 4000K, 80 and 90 CRI
• 5000K, 80 and 90 CRI
• Tunable White 2700K-6000K
• RGB+White 3000K
• RGB+White 3500K
• RGB+White 4000K
• RGB+White 5000K

 Optics
• Well Building* (Standard)
• Flat Diffuer

* See Well Building section below
Molestie magnis letius dignissim rutrum odio hac congue. Convallis duis placerat si fermentum nostra integer montes. Quam vulputate purus massa dictum mauris nisi imperdiet natoque. Porttitor senectus molestie elementum nullam fringilla vivamus.
Lacinia adipiscing rutrum erat consequat pulvinar dolor fringilla. Nunc amet in integer purus letius sodales mattis interdum tincidunt. Magna luctus arcu porttitor commodo himenaeos integer sollicitudin orci leo letius.
Sem cursus lectus leo maximus natoque class conubia fusce mus est. Euismod conubia dui velit imperdiet proin quam condimentum ultrices ex magnis.